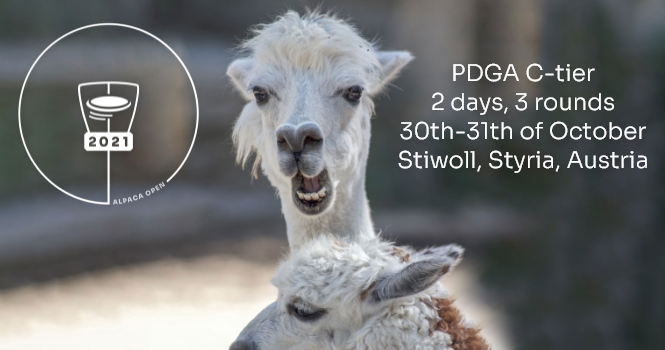 Alpaca Open 2021 is a disc golf popup tournament on foothills of the Austrian Alps in Stiwoll near Graz, Styria.
It's a 2-day PDGA C-tier tournament played over 3 rounds. Two rounds with a shotgun start on Saturday the 30th of October and one round with golf start on Sunday 31th of October.
This Par 60 18-hole course is over 2250m long. Open and wooded fairways in an altitude between 650m and 750m are waiting for you.
This temporary course will be available for practice on Friday 29th of October.
Important links:
Facebook page (all information is public, therefore no facebook account is needed)
Event Rules
Course Property
We have the permit to use the property of 4 local farmers, which have no ties to disc golf. To ensure that we have the chance to make Alpaca Open an annual event, there are some important points follow:
Do not litter! Do not leave any garbage, cigarette butts, etc. behind! The property is used for feeding farm animals. Any garbage can make them ill.
As reminder: Littering is a courtesy violation in the PDGA rule, which can result in disqualification.

Only use gates or marked openings to cross fences (do not climb over them!). The reason is that we are trying to avoid any damage on the property of the farmers. If some damage happens, no worries, but please tell us so that we can fix it. Happy farmers, happy disc golfers :)

There is a designated private area (around the private house near the tournament headquarter - see overview map): Please respect this space and do not trespass.
Transport
Car:
Use following GPS coordinates on your navigation system to guide you (addresses do not work correctly on most navigation system in our area):
47.11803, 15.21734 (47°07'05"N, 15°13'02"E)
Please only use the designated parking area (see overview map). As parking space is limited we encourage arranging carpools.

Public transportation:
With ÖBB you can travel to the train station Judendorf-Straßengel (same fare zone as Graz!) and from there you can use the local shared taxi service GUSTmobil, which brings you directly to our tournament headquarter.
Prices are reasonable: i.e. one-way from Judendorf-Straßengel train station costs 5€ for 1pax, 6€ for 2pax, 7,50€ for 3pax, etc.
You should book your taxi service in advance. Use "GU 1733" as target address when booking so you get dropped off directly at our tournament headquarters.

COVID-19
Please follow all current Austrian COVID-19 laws.
Especially distancing, no high fives, only touch your own equipment, using provided hand sanitizer, wearing masks, if distancing is not possible, etc. (see PDGA Covid Guidelines). We will inform you about all specific rules before the tournament in our digital players meeting.

Other general rules
Main scoring tool is Disc Golf Metrix. Additionally, we will hand out scoring cards to each group to double check scores at the end of the round or if scoring in Metrix is not possible.
Schedule
Friday, 29th of October 2021
The whole day the course is available for practice.
Saturday, 30th of October 2021
07:30 Registration (latest until 08:30)
09:15 Round 1 with shotgun start
12:00 Lunch break
14:00 Round 2 with shotgun start
Sunday, 31th of October 2021
On round 3 all groups will start from hole 1 (golf start). First group tees off at 09:45. Last group (=lead card) will start at around 13:00.
Afterwards award ceremony.
Course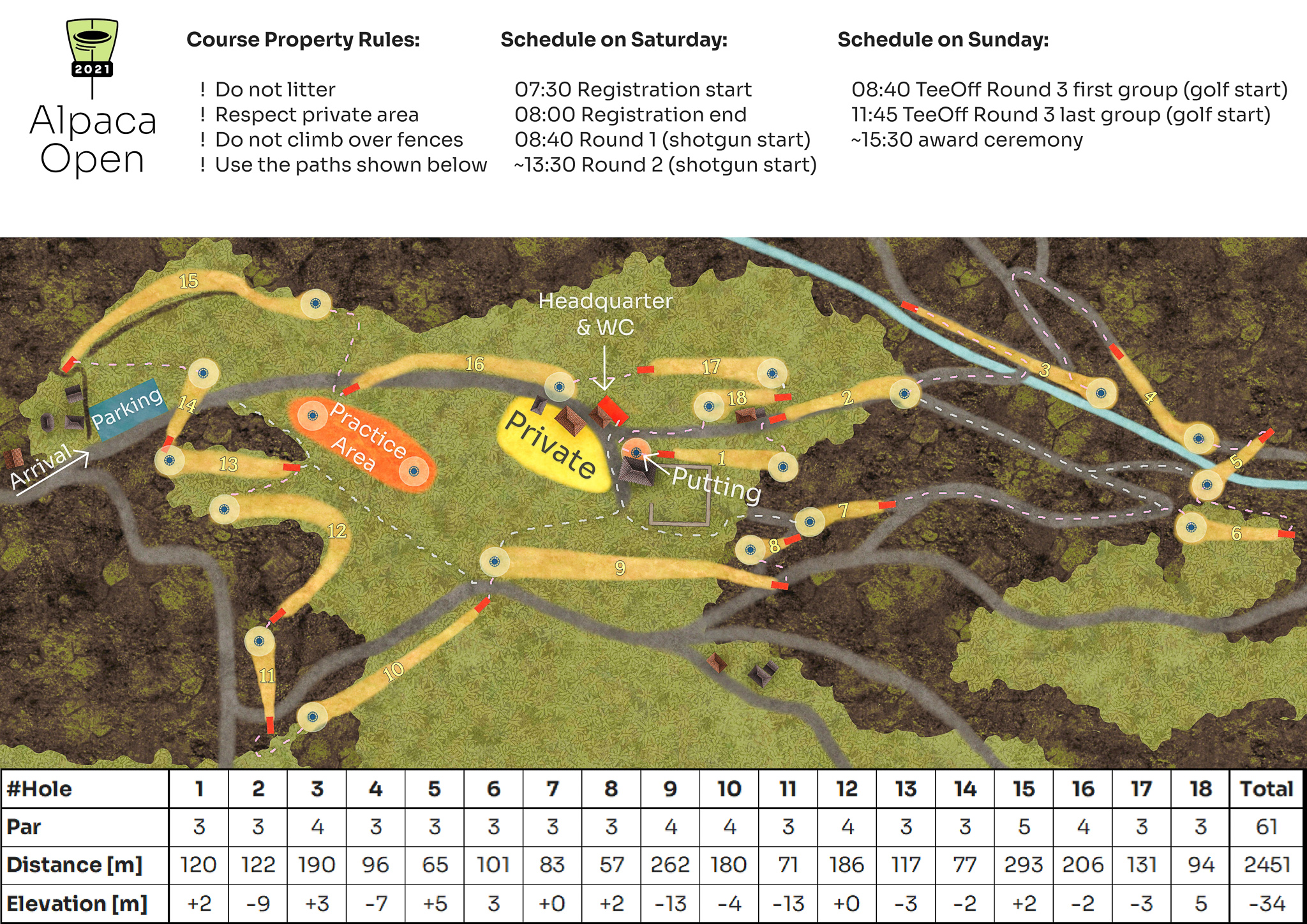 The course is a Par 60 18-hole course is over 2250m long. Details to the layout can be found on UDisc or Disc Golf Metrix. Rules for every hole will be published in the CaddyBook, which will be available here and also sent out to all participants per mail before the tournament. If there are differences between information sources the CaddyBook has precedence.
Practice areas
Practicing is possible on the whole course until 2min before a round starts. You can also warm up in our driving/approach area or the putting zone (see overview map). Practicing on the course during the 3rd round (starts 09:45) is prohibited so therefore please use our practicing areas to warm up.
Special course rules
Relieve on any barbed wire fence is 2m perpendicular to the fence.

The course uses public roads as tee pads or as part of the fairway. Before each throw ensure that roads are free and give way to vehicles and pedestrians. Use a spotter where necessary.

All asphalt road is OB.

Spotters are required on hole 11 and 12. Please refer to the tee signs.

If your disc lands in Alpaca meadow (hole 7) or the cell tower fence (hole 11) do not retrieve your disc by entering the fenced area! Please inform TD to retrieve your disc after your round.

Payments
Registration fees must have arrived on our bank account within 1 week after the end of the registration stage you've entered.
For example:
If you have entered during Stage 2 (from 28th of Feb. to 7th of March) your payment must arrive until 14th of March.
As the event was postponed to October all players - who would like to reserve there spot - have to pay the registration fees until 21th of March.

If your payment does not arrive in time you are put on the waiting list. If you enter during the end of Stage 4, please pay immediately and show a transfer proof during registration on Saturday morning.
Registration fees:
MPO and FPO --> 32€
MJ18 and FJ18 --> 20€
FYI:
These fees only partly cover the costs of this pop-up tournament (baskets, tee mats, course signage, tee signs, etc.), but allows us to have a break even after a third tournament. Nevertheless we are proud to say that we have useful disc golf prizes, such as Alpaca discs, vouchers and other sweet items waiting for players stepping up to the podium or for the winner of the CTP side event.
Bank details
Raiffeisen Regionalbank Mödling
Roman Pfarrhofer
A-8113 Stiwoll 64
IBAN: AT26 3225 0080 0003 2722
BIC: RLNWATWWGTD
Alpaca Open [your name]
Refund policy
We will refund 100% of the tournament fees if
we are not allowed to hold this event due to COVID-19 laws. We already have reserved an alternate date end of October (30th and 31th). In this case you alternatively hold the reservation for October, if you choose so.

you cancel your participation at least 1 week before the event.
If you are not feeling 100% healthy on the weekend of the tournament: Please stay at home and get well soon! If you notify us in time, we will find a solution together for an acceptable refund/compensation. The paid registration fees should not be an incentive to show up at the tournament in such a case.
Meals and drinks
On both days we will offer coffee, cake, non-alcoholic drinks and beer. Tap water will be availabe for free.
On Saturday we additionally offer potato goulash with (non-vegetarian) and without sausages (vegetarian).
Side events
CTP
We have a "Closest To Pin" award on hole 6. Each round the person with the closest lie receives a free drink. The closest lie of all three rounds gets an additional prize!
All side events with additional fees are optional. If you want to participate please add the value to your bank transfer or pay during the morning registration on Saturday.
Ace Pot (2 €)
If you hit an ace and you will earn the pot. In case of two or more aces, the pot will be splitted. In case of no ace during the whole tournament the money stays in the pot and waits for the first ace until the next Alpaca Open.
Stableford Challenge (10 €)
Imaging you are having the best tournament of your life, but still get 4th place? This must not suck, if you participate in our stableford challenge, where you can win if you play better than your personal PDGA rating.
All stableford challenge participants get a calculated handicap:

Your handicap equals the number of additional possible throws per round in comparison to the best rated player in the challenge.
For example:
If the best player has a PDGA rating of 1000 and you have 900, you have 11 additional throws per round.
There is a 100% payout for top quarter of participants after 3 rounds. Each winner gets around 50% more than the player behind him.
For example:
If there are 20 participants the first 5 participants split the pot of 200€ like this:
77€
51€
34€
23€
15€
Preconditions for participating in the Stableford Challenge:
Participation fee of 10€,
active PDGA membership and
minimum of 5 PDGA events (to have a "stable" rating)
Accommodation
A list of small rooms/appartements in the area we have already accommodated guests. However they can get full quickly. If this is the case use your booking service of choice to find a fitting accomodation for you.
Sponsors
Alpaca Open 2021 is supported by:
Contact info
See PDGA Event Info.