Show groups:

click here

Comment:

Fun event with three Trilogy discs (included on player pack)
TYYNI Trilogy Challenge
Trilogy Challenge is a fun event and it is played with the three player pack discs. Only with those discs. Entry fee includes those three discs, towel and marker disc.
More information about Trilogy Challenge events in general can be found here: https://trilogychallenge.com/
This event is open for everyone and there is no requirements with memberships etc. Event is organized during Tyyni as one-round shotgun start competition on Thursday, July 6th. Course is just expanded 18-hole Talma disc golf course in Sipoo.
Welcome!
---
General information
TYYNI Trilogy Challenge
Talma disc golf course, Sipoo (Google Maps)
Thursday, July 6th 2023
Fun event, open for everyone
Played with three player pack discs
Contact
Organizer: Natural Born Disc Golfer
In cooperation with Sipoon Discstroyers
Contact email: events@nbdg.fi
Tournament Director: Miika Tjurin, +358 40 137 9739
Preliminary schedule
18:15 Check-in and player pack pick-up
18:40 Player meeting
19:00 Competition round with shotgun start
Award ceremony right after the event
Competition rules
One competition round (18 holes) with shotgun start
PDGA rules are valid, but since having a fun event, torunament director has the power to make some toher decisions if needed
Only the three player pack discs can be used during the round
Smoking, vaporing and use of any other tobacco products are prohibited at the tournament center and during the competition round
Organizer has got four wild card spots. Those can be shared freely
---
Registration and entry fee
Registration in advance through this Metrix page
No memberships or licenses required. You may join even without any competition experience
Division are based to Metrix ratings:

VANDAL - 900 or higher
WARSHIP - 800-899
PURE - 799 or lower
Entry fee
Entry fee is 40,00 € in all divisions
Entry fee includes the player pack (check more below)
Payment needs to be done right after registration. Unpaid players may be removed without any further notice.
Do not pay the entry fee if you end to the waitlist. Pay if you get the spot later
Payment options
NBDG webshop
LINK TO PAYMENT

MobilePay (Finnish accounts only)
Payment to number 39899 (NBDG Events)
Message: Tyyni Trilogy Challenge, player name
Withdrawals and refunds
If you need to withdraw, send email to events@nbdg.fi
Entry fee is refunded if the withdrawal is done at the latest two days before the event
If the withdrawal is done later, no refund but player can get the player pack during Tyyni event
---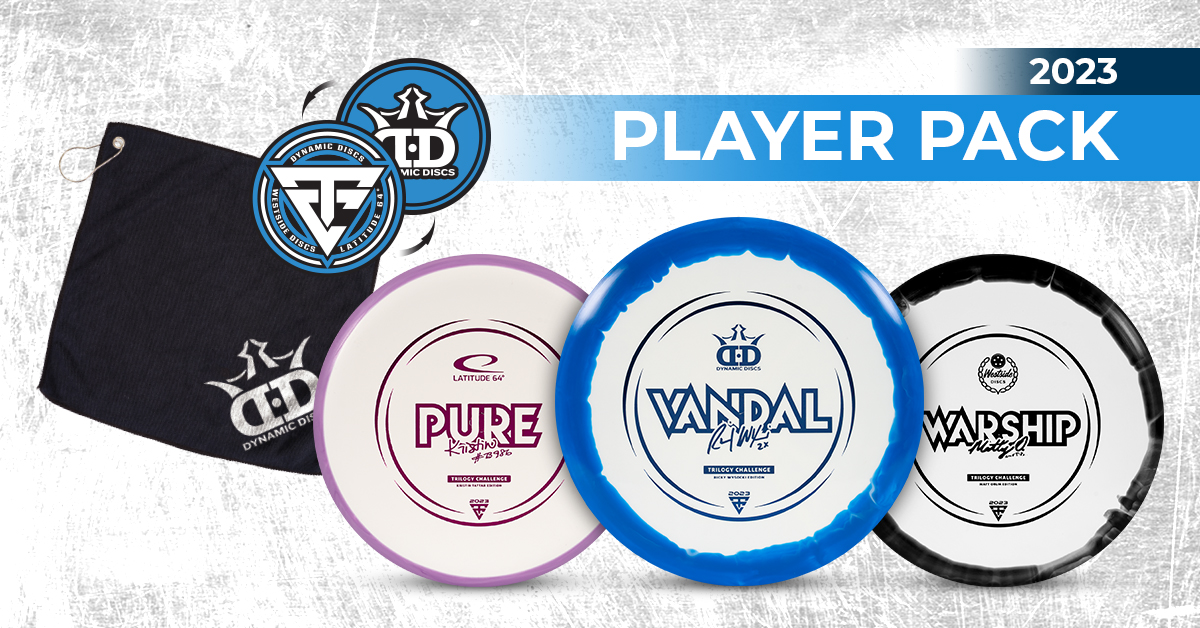 Player pack and prizes
Entry fee includes the player pack
Dynamic Discs Fuzion Ice Orbit Vandal (Fairway driver)
Westside Discs Tournament Ice Orbit Warship (Midrange)
Latitude 64 Retro Orbit Pure (Putteri)
Trilogy Challenge towel
Trilogy Challenge marker disc
Prizes
Each division winner gets the Trilogy Challenge Winner -pack (if tied positions, winner will be decided with a CTP competition)

Trilogy Challenge Champion special disc
Trilogy voucher

Based on number of players in division, there might be Trilogy vouchers for other top players too