Central European Discgolf Championship powered by Discmania
09/08/23 - 09/10/23|STP Lions Green Park → CEDGC23|AUSTRIA
No
Name
+/-
Thr
1
2
3
4
5
6
7
8
9
10
11
12
13
14
15
16
17
18
+/-
Sum
Par
3
4
3
3
4
5
4
4
3
4
4
3
4
3
5
4
3
3
66
Pro Open (76)
+/-
Thr
1
2
3
4
5
6
7
8
9
10
11
12
13
14
15
16
17
18
+/-
Sum
1
Stanislaus Amann
09/08/23 14:10
-4
F
2
4
3
3
2
4
4
5
3
5
3
3
4
3
5
3
2
4
-4
62
09/09/23 12:40
-10
F
2
3
2
2
3
6
5
3
2
4
3
3
3
5
5
3
2
4
-6
60
09/10/23 08:00
-17
F
2
3
2
2
3
5
5
3
2
4
3
3
6
2
5
4
2
3
-7
59
-17
181
2
Florian Lingenhel
09/08/23 14:00
+1
F
3
4
2
3
5
5
5
4
3
4
4
4
5
2
4
4
3
3
+1
67
09/09/23 12:40
-5
F
3
4
2
3
3
4
5
3
3
4
3
2
4
2
5
3
3
4
-6
60
09/10/23 08:00
-10
F
3
2
2
2
6
4
5
4
3
5
4
3
4
2
4
3
2
3
-5
61
-10
188
3
Leon Sonnleitner
09/08/23 13:30
+8
F
3
3
6
2
4
6
4
4
3
7
4
5
5
4
4
3
3
4
+8
74
09/09/23 11:20
+3
F
2
3
3
3
3
5
3
4
4
4
4
3
5
2
5
3
2
3
-5
61
09/10/23 14:20
-1
F
3
6
2
2
5
5
3
4
3
4
4
3
4
2
4
3
2
3
-4
62
-1
197
4
Lucian Dutzi
09/08/23 13:20
+3
F
2
4
3
3
4
4
5
4
3
5
4
4
4
2
6
5
3
4
+3
69
09/09/23 12:20
+4
F
3
4
3
3
4
5
4
5
4
4
4
4
4
2
5
4
3
2
+1
67
09/10/23 14:20
0
F
3
3
3
3
4
5
5
4
2
3
3
3
4
2
6
4
3
2
-4
62
0
198
4
Laurenz Schaurhofer
09/08/23 13:40
+6
F
3
5
3
2
5
5
5
6
2
5
3
3
4
3
6
4
6
2
+6
72
09/09/23 11:50
0
F
2
3
2
2
5
4
4
4
2
3
3
3
4
3
5
4
3
4
-6
60
09/10/23 08:00
0
F
3
5
3
3
5
4
5
4
3
5
3
3
4
2
5
3
2
4
0
66
0
198
6
Petr Mrázek
09/08/23 13:10
+4
F
3
3
4
3
4
5
3
4
3
5
4
5
4
4
5
5
2
4
+4
70
09/09/23 12:10
+5
F
3
4
4
2
4
6
4
3
3
5
3
3
6
2
5
4
3
3
+1
67
09/10/23 14:20
+1
F
3
3
4
2
4
5
5
4
3
4
4
2
4
2
4
3
3
3
-4
62
+1
199
6
Michal Kúdela
09/08/23 13:50
+3
F
3
5
3
2
4
5
4
3
3
4
3
3
5
4
7
4
3
4
+3
69
09/09/23 12:20
+4
F
3
6
4
2
4
6
4
4
3
5
3
3
4
2
6
3
2
3
+1
67
09/10/23 14:20
+1
F
4
4
3
2
4
5
4
3
3
4
4
2
4
2
5
4
2
4
-3
63
+1
199
8
Jakob Ettlinger
09/08/23 12:30
+4
F
3
4
3
3
4
4
3
5
4
6
3
5
4
4
6
4
2
3
+4
70
09/09/23 12:10
+5
F
3
4
3
2
4
6
5
4
3
3
3
3
8
2
4
4
2
4
+1
67
09/10/23 14:10
+2
F
3
3
3
3
4
5
4
3
3
4
3
4
3
3
5
5
2
3
-3
63
+2
200
9
Bálint Kazai
09/08/23 10:50
+2
F
4
3
4
3
4
5
4
4
3
6
4
4
4
2
4
4
3
3
+2
68
09/09/23 12:30
+2
F
3
4
2
3
4
5
4
3
3
3
4
4
5
4
5
4
3
3
0
66
09/10/23 08:00
+3
F
3
3
4
3
4
5
5
4
3
4
4
3
5
2
5
4
3
3
+1
67
+3
201
9
Dima 平 Gerashchenko
09/08/23 10:40
+5
F
3
5
3
3
3
5
4
4
6
6
4
3
5
2
4
3
2
6
+5
71
09/09/23 12:00
+6
F
3
4
2
2
4
5
6
4
3
5
4
3
4
2
6
3
3
4
+1
67
09/10/23 09:40
+3
F
3
3
3
3
3
5
4
5
2
3
4
5
4
2
5
4
2
3
-3
63
+3
201
11
Marko Čačala
09/08/23 12:50
+7
F
4
4
3
2
5
5
6
4
4
4
4
4
5
2
6
4
3
4
+7
73
09/09/23 11:40
+6
F
3
4
3
2
4
5
4
4
3
4
4
3
4
4
4
3
3
4
-1
65
09/10/23 14:10
+6
F
3
3
2
3
4
5
5
3
3
4
4
3
4
2
6
4
3
5
0
66
+6
204
11
Georg Grubner
09/08/23 10:00
+2
F
3
5
3
3
4
6
4
4
3
5
3
2
6
2
6
4
3
2
+2
68
09/09/23 12:30
+7
F
3
3
4
4
4
6
4
5
3
6
4
3
5
3
4
3
3
4
+5
71
09/10/23 13:50
+6
F
3
3
3
2
4
6
4
5
3
5
4
3
4
2
5
4
2
3
-1
65
+6
204
13
Lukas Froschauer
09/08/23 12:00
+6
F
3
6
3
2
4
5
4
6
3
5
4
3
5
4
4
4
2
5
+6
72
09/09/23 12:00
+7
F
2
3
3
2
5
6
5
4
3
4
4
3
5
3
6
4
2
3
+1
67
09/10/23 13:50
+7
F
3
3
3
3
3
6
4
4
3
5
4
2
4
3
7
4
2
3
0
66
+7
205
14
Christoph Blüher
09/08/23 10:40
+2
F
3
4
2
2
4
8
4
3
4
4
4
3
6
2
4
5
3
3
+2
68
09/09/23 12:30
+8
F
3
4
5
3
4
5
4
3
2
5
4
3
5
3
7
4
3
5
+6
72
09/10/23 13:50
+8
F
2
4
3
3
3
5
4
4
4
4
4
2
4
4
8
3
2
3
0
66
+8
206
14
Joakim Bjørklund
09/08/23 09:00
0
F
3
3
3
3
5
5
4
4
3
6
4
3
4
2
5
4
2
3
0
66
09/09/23 12:40
+8
F
3
6
3
3
4
7
5
4
3
7
3
2
5
2
7
3
3
4
+8
74
09/10/23 13:40
+8
F
3
3
4
3
3
6
4
4
2
5
4
3
5
2
5
4
2
4
0
66
+8
206
16
Karol Hrubják
09/08/23 13:00
+3
F
4
4
3
3
4
6
4
5
3
5
4
3
5
2
5
4
2
3
+3
69
09/09/23 12:20
+10
F
3
4
3
3
4
5
4
5
2
8
4
4
5
2
6
4
2
5
+7
73
09/10/23 13:40
+10
F
3
3
3
2
4
5
4
4
3
5
4
3
4
2
6
4
4
3
0
66
+10
208
16
Blaz Petrovic
09/08/23 11:30
0
F
3
3
3
2
6
4
4
4
3
4
6
3
3
4
4
4
2
4
0
66
09/09/23 12:40
+5
F
2
4
3
3
4
4
5
3
3
5
4
4
4
4
7
6
2
4
+5
71
09/10/23 14:10
+10
F
3
5
4
2
4
5
4
3
3
5
5
4
7
2
7
4
2
2
+5
71
+10
208
16
Christian Groffner
09/08/23 12:40
+3
F
2
4
3
3
5
4
5
4
3
5
4
5
4
2
6
4
3
3
+3
69
09/09/23 12:20
+6
F
3
4
2
2
4
7
5
5
2
4
4
3
3
4
5
4
3
5
+3
69
09/10/23 14:00
+10
F
3
5
2
3
4
6
4
4
3
5
3
3
5
4
5
4
3
4
+4
70
+10
208
19
Samuel Gould
09/08/23 13:40
+2
F
3
4
2
3
4
5
4
5
3
4
3
4
5
2
6
3
2
6
+2
68
09/09/23 12:30
+11
F
3
4
3
3
4
5
5
4
5
5
3
3
5
4
7
5
3
4
+9
75
09/10/23 13:40
+11
-
0
0
+11
143
19
Stefan Gollinger
09/08/23 09:40
+6
F
3
6
3
2
4
5
5
4
4
4
4
6
4
2
6
4
3
3
+6
72
09/09/23 11:50
+7
F
2
4
3
2
4
5
4
5
3
4
5
3
5
3
6
3
2
4
+1
67
09/10/23 13:50
+11
F
2
4
3
4
5
4
5
4
4
3
4
3
6
3
5
5
3
3
+4
70
+11
209
21
Edoardo Turri
09/08/23 08:30
+7
F
4
3
4
4
4
4
5
4
3
5
4
3
4
4
5
4
5
4
+7
73
09/09/23 11:30
+7
F
3
3
3
3
4
5
4
4
4
5
4
3
4
2
6
3
3
3
0
66
09/10/23 14:00
+12
F
3
4
4
3
4
5
5
4
3
6
4
3
4
2
7
4
3
3
+5
71
+12
210
22
Alfredo Lazzarin
09/08/23 14:10
+7
F
5
3
2
2
3
6
4
4
5
7
4
3
4
4
6
5
3
3
+7
73
09/09/23 11:40
+9
F
3
4
3
2
4
5
4
4
3
5
4
4
4
4
6
4
2
3
+2
68
09/10/23 13:40
+13
F
3
4
2
3
3
6
4
5
3
4
4
3
6
4
6
4
2
4
+4
70
+13
211
22
Patryk Kieś
09/08/23 09:50
+5
F
2
5
4
2
5
6
4
3
3
5
4
3
4
4
6
4
3
4
+5
71
09/09/23 12:00
+6
F
3
3
3
3
4
5
4
6
3
3
3
4
4
2
7
4
3
3
+1
67
09/10/23 14:00
+13
F
3
4
3
3
4
5
5
4
4
6
5
3
3
2
7
5
3
4
+7
73
+13
211
24
Bernhard Wimmer
09/08/23 09:30
+8
F
3
4
4
3
5
5
5
5
3
8
3
4
5
2
6
4
2
3
+8
74
09/09/23 11:20
+14
F
3
4
3
2
5
5
5
7
3
5
5
4
3
3
5
4
3
3
+6
72
09/10/23 13:20
+14
-
0
0
+14
146
25
Jiří Svatoš
09/08/23 08:40
+7
F
4
5
3
3
4
6
5
4
3
5
4
4
4
2
7
4
3
3
+7
73
09/09/23 11:30
+13
F
4
5
3
3
3
5
6
4
3
4
3
3
6
2
8
3
3
4
+6
72
09/10/23 13:30
+15
F
4
4
3
3
4
5
4
3
3
3
4
4
4
3
6
3
3
5
+2
68
+15
213
25
Erki Kure
09/08/23 13:10
+3
F
4
4
5
3
6
5
5
4
2
5
3
3
5
2
5
3
2
3
+3
69
09/09/23 12:10
+6
F
3
4
3
3
5
8
4
4
3
5
3
4
4
2
5
4
2
3
+3
69
09/10/23 14:00
+15
F
4
6
3
4
5
6
5
3
3
3
4
2
5
2
7
7
3
3
+9
75
+15
213
25
David Kleewein
09/08/23 10:00
+15
F
4
4
4
2
6
6
4
4
4
6
4
4
4
2
8
5
4
6
+15
81
+15
81
28
Zack Bevelacqua
09/08/23 11:40
+7
F
3
3
3
3
4
6
4
4
3
5
4
3
5
4
7
5
3
4
+7
73
09/09/23 11:40
+14
F
4
4
3
3
4
5
4
4
6
6
3
3
4
3
6
4
3
4
+7
73
09/10/23 13:20
+16
F
4
5
3
2
4
5
4
5
3
5
3
3
4
2
5
4
4
3
+2
68
+16
214
29
Eric Osterwinter
09/08/23 09:20
+9
F
4
3
3
3
4
5
5
5
4
5
4
4
5
4
6
4
2
5
+9
75
09/09/23 11:10
+13
F
3
5
3
3
4
5
4
4
3
5
4
3
4
2
7
4
3
4
+4
70
09/10/23 13:30
+18
F
3
4
5
2
4
5
4
4
2
4
4
3
7
3
6
4
3
4
+5
71
+18
216
29
Manuel Franz Schinnerl
09/08/23 10:10
+10
F
3
5
5
2
4
7
6
4
3
5
4
3
6
2
7
5
2
3
+10
76
09/09/23 11:00
+14
F
3
4
4
2
4
5
6
4
3
6
3
3
4
2
6
4
3
4
+4
70
09/10/23 13:20
+18
F
4
3
3
2
5
7
5
4
3
5
4
3
5
2
6
4
2
3
+4
70
+18
216
31
Gerald Wölbl
09/08/23 09:40
+5
F
3
5
3
2
4
5
5
4
3
5
3
3
4
4
6
6
3
3
+5
71
09/09/23 12:10
+13
F
3
6
3
2
4
5
5
4
3
6
5
3
5
4
6
4
2
4
+8
74
09/10/23 09:50
+19
F
3
5
4
3
4
5
4
4
3
5
3
3
4
4
7
6
2
3
+6
72
+19
217
31
Herbert Grünsteidl
09/08/23 12:10
+8
F
4
4
4
2
4
6
4
4
4
5
4
3
4
2
7
5
3
5
+8
74
09/09/23 11:20
+13
F
4
7
4
3
4
5
4
5
3
4
3
3
6
2
5
5
2
2
+5
71
09/10/23 13:30
+19
F
3
6
3
3
5
5
6
5
3
5
4
3
4
3
5
3
3
3
+6
72
+19
217
31
Martin Josef Nittmann
09/08/23 09:10
+19
F
5
6
4
3
4
7
4
5
5
5
5
4
5
4
7
4
3
5
+19
85
+19
85
34
Stefan Strutzenberger
09/08/23 10:10
+7
F
5
3
3
2
3
6
6
3
3
5
3
4
6
4
5
5
3
4
+7
73
09/09/23 11:40
+15
F
3
4
3
4
4
6
4
5
3
5
4
3
5
2
8
5
3
3
+8
74
09/10/23 13:10
+20
F
3
4
4
2
5
6
4
4
4
5
3
3
7
2
5
4
3
3
+5
71
+20
218
35
Piotr Szymański
09/08/23 13:00
+12
F
4
6
3
3
6
7
5
5
4
5
4
3
5
4
4
4
2
4
+12
78
09/09/23 10:40
+18
F
3
5
4
3
4
5
5
4
3
6
4
4
5
2
4
5
3
3
+6
72
09/10/23 10:40
+21
F
3
4
3
2
4
5
5
4
3
5
4
4
4
2
7
4
3
3
+3
69
+21
219
35
Patrick Melischnig
09/08/23 09:00
+5
F
4
4
2
3
4
6
5
5
3
5
5
3
5
2
6
4
2
3
+5
71
09/09/23 12:00
+15
F
3
4
3
3
4
6
5
4
4
4
6
3
5
2
7
5
3
5
+10
76
09/10/23 09:10
+21
F
3
4
3
2
5
7
5
4
3
7
5
3
6
2
4
3
3
3
+6
72
+21
219
37
Peter Jesse
09/08/23 10:20
+12
F
3
4
3
4
5
5
4
5
4
5
4
4
6
4
8
4
3
3
+12
78
09/09/23 10:40
+17
F
3
3
4
3
4
6
4
4
4
4
4
4
5
2
6
4
3
4
+5
71
09/10/23 13:10
+22
F
3
4
4
2
5
5
5
5
3
4
3
3
4
4
6
4
3
4
+5
71
+22
220
38
Josip Bošnjaković
09/08/23 11:10
+6
F
3
4
4
3
4
5
5
4
3
5
3
3
8
2
5
5
3
3
+6
72
09/09/23 11:50
+17
F
4
5
8
2
4
6
3
4
3
6
5
3
6
4
5
4
2
3
+11
77
09/10/23 10:40
+25
F
4
3
4
4
4
5
4
4
3
8
4
4
4
3
6
4
3
3
+8
74
+25
223
38
Vjeran Tuhtan
09/08/23 10:30
+11
F
3
8
3
3
5
6
7
4
4
5
3
3
4
2
6
5
3
3
+11
77
09/09/23 10:50
+20
F
3
4
3
2
4
5
6
5
3
6
4
3
5
4
7
4
2
5
+9
75
09/10/23 10:30
+25
F
4
5
3
3
4
6
5
3
4
7
3
3
4
2
5
4
3
3
+5
71
+25
223
38
Manuel Oman
09/08/23 08:30
+9
F
3
4
4
3
4
8
5
5
4
4
4
3
4
4
5
5
3
3
+9
75
09/09/23 11:10
+25
F
3
6
3
3
5
7
4
4
4
6
4
4
4
4
7
8
3
3
+16
82
09/10/23 08:00
+25
-
0
0
+25
157
41
Štefan Pócoš
09/08/23 13:40
+9
F
4
3
3
2
5
6
4
4
3
4
4
4
6
4
7
5
3
4
+9
75
09/09/23 11:10
+17
F
3
4
5
3
3
5
6
4
3
4
3
5
5
2
7
5
3
4
+8
74
09/10/23 10:40
+26
F
5
4
6
2
4
6
4
3
3
4
4
3
6
2
8
4
3
4
+9
75
+26
224
41
Patryk Filipczak
09/08/23 08:10
+6
F
4
5
3
2
4
6
4
3
4
4
3
3
4
5
6
5
3
4
+6
72
09/09/23 11:50
+14
F
3
6
2
2
6
5
6
4
4
5
4
3
4
4
6
4
3
3
+8
74
09/10/23 13:20
+26
F
3
6
3
2
5
5
5
5
4
6
6
4
5
3
6
4
2
4
+12
78
+26
224
43
Stefan Ignjatovic
09/08/23 12:50
+9
F
3
5
3
3
6
5
5
3
3
5
4
4
4
4
5
4
3
6
+9
75
09/09/23 11:00
+15
F
3
4
3
3
4
6
4
4
4
5
3
3
4
2
8
4
3
5
+6
72
09/10/23 13:10
+27
F
3
6
3
3
5
7
3
5
3
8
4
4
4
3
6
5
3
3
+12
78
+27
225
43
Paul Doblhofer
09/08/23 10:30
+13
F
5
3
5
3
4
5
5
5
4
7
4
4
5
2
6
5
3
4
+13
79
09/09/23 10:30
+27
F
4
6
3
2
5
7
6
4
4
5
3
3
4
5
7
5
4
3
+14
80
09/10/23 08:00
+27
-
0
0
+27
159
43
Marek Novotny
09/08/23 13:00
+16
F
4
4
3
3
4
6
5
5
3
6
5
5
4
2
10
5
3
5
+16
82
09/09/23 10:10
+21
F
4
3
3
3
4
6
5
4
3
6
4
3
5
2
5
4
3
4
+5
71
09/10/23 10:20
+27
F
3
5
3
2
6
6
5
4
3
4
4
3
5
2
6
5
3
3
+6
72
+27
225
43
Marek Gontarz
09/08/23 08:50
+13
F
3
4
3
2
4
7
4
4
4
7
5
4
5
4
7
5
3
4
+13
79
09/09/23 10:30
+18
F
3
4
3
2
4
6
4
5
3
4
5
4
4
2
7
4
4
3
+5
71
09/10/23 10:40
+27
F
2
4
3
2
4
6
6
5
3
6
4
3
6
3
6
5
4
3
+9
75
+27
225
43
Philipp Friedler
09/08/23 11:00
+17
F
3
6
4
3
5
5
5
4
4
8
5
5
7
3
5
5
3
3
+17
83
09/09/23 10:10
+22
F
4
4
3
3
4
6
4
4
3
5
6
3
5
2
6
4
2
3
+5
71
09/10/23 10:10
+27
F
4
4
3
3
4
7
5
4
3
5
3
3
5
2
6
4
3
3
+5
71
+27
225
48
Nino Đurak
09/08/23 10:40
+14
F
4
4
4
3
6
6
5
4
3
5
5
3
6
5
6
4
2
5
+14
80
09/09/23 10:20
+22
F
3
3
5
2
4
6
6
5
3
4
4
3
6
2
6
4
3
5
+8
74
09/10/23 10:20
+29
F
3
4
4
3
4
7
5
4
3
5
4
3
5
3
6
4
3
3
+7
73
+29
227
48
Stefan Leitinger
09/08/23 10:30
+9
F
3
4
4
3
4
6
5
5
4
4
4
3
4
3
6
5
4
4
+9
75
09/09/23 11:00
+22
F
3
4
5
3
5
5
4
4
2
5
5
4
7
4
7
4
4
4
+13
79
09/10/23 10:10
+29
F
3
3
3
3
5
7
6
4
3
3
3
3
4
2
6
6
3
6
+7
73
+29
227
50
Sven Briscan
09/08/23 14:10
+14
F
4
10
4
3
4
7
4
4
3
5
4
3
4
4
6
4
3
4
+14
80
09/09/23 10:20
+23
F
3
4
3
3
6
6
5
5
3
4
4
4
6
2
6
4
3
4
+9
75
09/10/23 10:20
+30
F
3
4
6
2
5
6
4
4
4
4
4
3
5
2
5
5
3
4
+7
73
+30
228
50
Aleksandar Sudžuković
09/08/23 10:50
+9
F
4
5
3
3
4
7
5
5
3
6
4
4
4
2
6
5
2
3
+9
75
09/09/23 11:10
+23
F
5
6
4
2
5
6
4
5
4
7
3
3
6
2
7
5
3
3
+14
80
09/10/23 10:00
+30
F
3
4
4
2
4
7
5
5
3
6
4
3
5
3
5
5
2
3
+7
73
+30
228
50
Aleksandar Aki Vucković
09/08/23 11:50
+10
F
4
3
3
3
4
6
5
5
3
6
6
3
4
2
7
5
3
4
+10
76
09/09/23 11:00
+25
F
4
3
4
2
5
7
6
4
3
7
4
4
7
4
6
4
3
4
+15
81
09/10/23 09:50
+30
F
4
3
3
2
4
9
4
4
3
6
4
3
3
2
6
5
2
4
+5
71
+30
228
53
Maximilian Schretter
09/08/23 09:30
+8
F
3
4
3
3
5
6
5
5
3
5
5
5
5
2
4
5
3
3
+8
74
09/09/23 11:20
+24
F
4
7
3
3
5
5
6
4
5
5
4
5
4
2
7
4
4
5
+16
82
09/10/23 10:00
+31
F
4
3
3
3
4
5
6
5
3
5
4
3
4
2
7
4
4
4
+7
73
+31
229
53
Lukas Hofbauer
09/08/23 10:00
+12
F
3
5
5
3
4
5
4
6
3
6
5
4
5
2
7
4
3
4
+12
78
09/09/23 10:40
+22
F
4
4
3
3
4
6
5
5
3
5
4
4
4
4
7
4
3
4
+10
76
09/10/23 10:10
+31
F
4
3
4
3
4
5
5
5
3
5
5
3
5
3
6
4
3
5
+9
75
+31
229
53
David Tschemernjak
09/08/23 13:20
+7
F
3
3
5
3
4
6
5
4
3
5
4
4
6
2
6
4
3
3
+7
73
09/09/23 11:30
+22
F
6
4
4
3
4
5
5
4
4
5
4
3
5
4
8
5
3
5
+15
81
09/10/23 10:10
+31
F
3
4
4
2
4
6
6
4
3
4
5
4
5
4
6
4
2
5
+9
75
+31
229
56
Georg Knirsch
09/08/23 09:20
+10
F
3
5
3
2
5
6
4
5
3
6
4
4
5
4
7
4
2
4
+10
76
09/09/23 10:50
+20
F
3
7
4
2
4
5
4
4
3
6
6
4
5
2
6
4
3
4
+10
76
09/10/23 10:30
+32
F
3
4
5
2
6
7
4
4
3
8
4
4
4
2
6
6
3
3
+12
78
+32
230
57
Andrea Chimirri
09/08/23 08:00
+11
F
3
6
3
3
4
5
4
5
4
5
4
4
5
5
7
4
3
3
+11
77
09/09/23 10:50
+20
F
3
4
3
2
4
7
6
5
3
6
4
3
5
2
7
4
3
4
+9
75
09/10/23 10:30
+34
F
6
5
4
2
4
6
4
4
4
6
4
3
7
2
8
4
3
4
+14
80
+34
232
57
Péter Mészáros
09/08/23 12:30
+11
F
3
5
3
3
6
6
5
5
4
6
3
3
5
3
7
4
3
3
+11
77
09/09/23 10:50
+19
F
3
4
4
3
4
6
6
4
3
5
4
4
4
2
6
5
4
3
+8
74
09/10/23 10:30
+34
F
6
3
4
4
4
7
5
6
3
5
4
4
5
4
5
5
3
4
+15
81
+34
232
57
Dominik Reutterer
09/08/23 12:40
+19
F
4
4
5
3
5
8
7
4
3
4
4
5
7
4
7
4
3
4
+19
85
09/09/23 09:50
+25
F
3
3
4
3
4
6
6
4
4
5
4
3
4
2
6
4
3
4
+6
72
09/10/23 10:00
+34
F
4
4
4
3
4
6
5
5
3
5
4
4
6
2
6
4
3
3
+9
75
+34
232
60
Lukáš Logr
09/08/23 08:10
+12
F
4
7
3
3
4
6
5
4
3
6
4
3
6
2
7
4
4
3
+12
78
09/09/23 10:30
+26
F
3
6
6
2
6
6
5
5
3
6
4
3
7
2
6
4
3
3
+14
80
09/10/23 09:50
+36
F
4
6
4
2
4
5
4
4
3
5
4
4
4
4
8
5
3
3
+10
76
+36
234
60
Albin Wirtl
09/08/23 11:10
+18
F
4
4
5
2
5
7
7
5
4
5
4
5
5
4
7
4
4
3
+18
84
09/09/23 10:00
+25
F
4
4
3
3
5
6
3
3
3
4
4
3
7
2
9
4
3
3
+7
73
09/10/23 10:00
+36
F
3
6
3
3
5
6
7
4
3
5
5
4
4
2
6
4
3
4
+11
77
+36
234
62
Marco Jandl
09/08/23 11:30
+7
F
3
3
4
3
5
6
5
4
3
6
3
4
7
2
6
4
2
3
+7
73
09/09/23 11:30
+28
F
4
7
5
4
5
5
5
3
6
6
4
3
5
5
6
6
3
5
+21
87
09/10/23 09:30
+38
F
4
3
4
3
4
7
5
4
3
4
3
4
5
4
5
6
4
4
+10
76
+38
236
62
Stefan Brunner
09/08/23 10:10
+12
F
4
5
4
3
5
6
5
4
3
4
5
4
5
4
6
5
2
4
+12
78
09/09/23 10:40
+27
F
3
3
5
3
3
9
7
5
3
6
4
3
4
4
9
4
3
3
+15
81
09/10/23 09:40
+38
F
3
4
4
3
4
9
5
4
3
6
4
3
5
4
6
4
2
4
+11
77
+38
236
64
Aleksandar Micakovic
09/08/23 11:30
+14
F
3
5
4
3
5
5
4
5
3
7
4
3
5
4
6
5
5
4
+14
80
09/09/23 10:20
+25
F
4
4
3
5
5
6
5
4
3
4
4
4
6
2
6
4
4
4
+11
77
09/10/23 09:50
+39
F
3
5
3
4
4
6
4
6
2
6
3
4
5
4
7
7
3
4
+14
80
+39
237
65
Benjamin Mauch
09/08/23 09:10
+21
F
4
10
4
2
5
8
5
4
3
5
4
4
6
2
9
5
3
4
+21
87
09/09/23 09:50
+27
F
3
5
3
3
4
6
4
5
3
4
5
4
6
2
5
4
3
3
+6
72
09/10/23 09:40
+40
F
3
5
3
3
5
7
5
4
4
6
4
3
5
3
8
4
3
4
+13
79
+40
238
66
Nathanael Amann
09/08/23 11:50
+14
F
3
6
3
2
4
5
6
4
4
7
4
3
5
4
6
4
5
5
+14
80
09/09/23 10:20
+30
F
3
5
4
3
7
6
5
4
3
4
3
4
6
4
6
5
5
5
+16
82
09/10/23 09:30
+41
F
3
4
3
5
4
7
6
4
4
4
5
3
5
3
5
6
3
3
+11
77
+41
239
67
Philipp Schüller
09/08/23 12:20
+16
F
4
6
3
4
5
7
5
5
3
6
4
3
5
2
6
5
3
6
+16
82
09/09/23 10:00
+32
F
4
4
4
2
5
7
6
6
3
5
3
4
5
2
6
5
6
5
+16
82
09/10/23 09:30
+42
F
3
4
3
2
5
6
6
5
6
5
3
4
5
2
7
4
3
3
+10
76
+42
240
68
Aleksandar Rutić
09/08/23 10:20
+13
F
4
3
5
3
5
8
5
5
4
6
4
3
6
2
6
4
2
4
+13
79
09/09/23 10:30
+22
F
4
3
3
2
5
6
5
4
4
5
5
3
5
2
6
5
4
4
+9
75
09/10/23 10:20
+44
F
3
6
3
2
6
8
6
4
5
6
3
4
6
3
9
5
4
5
+22
88
+44
242
69
Juraj Falath
09/08/23 14:20
+21
F
4
5
4
3
4
8
5
3
3
10
3
5
5
4
7
5
5
4
+21
87
09/09/23 09:40
+34
F
4
5
4
2
4
8
4
5
4
5
4
4
4
5
6
5
3
3
+13
79
09/10/23 09:20
+45
F
3
5
5
2
4
6
6
5
4
7
4
4
4
2
6
4
3
3
+11
77
+45
243
70
Kirill Patiaka
09/08/23 11:10
+18
F
3
4
4
3
6
6
6
6
4
5
5
6
6
2
6
5
4
3
+18
84
09/09/23 10:00
+30
F
4
3
3
3
4
6
5
4
4
5
4
4
7
4
7
4
3
4
+12
78
09/10/23 09:30
+46
F
4
4
3
4
5
6
5
5
4
6
4
4
6
2
6
6
3
5
+16
82
+46
244
71
Alexander Hüttner
09/08/23 11:00
+22
F
4
4
4
4
8
7
5
5
4
6
5
3
5
4
7
5
3
5
+22
88
09/09/23 09:40
+34
F
5
5
6
2
4
6
4
4
3
6
4
4
5
4
6
3
3
4
+12
78
09/10/23 09:20
+51
F
3
5
5
4
5
6
5
6
3
5
4
3
5
3
7
5
5
4
+17
83
+51
249
71
Nikolaus Österreicher
09/08/23 12:00
+19
F
4
7
4
4
4
6
5
4
3
7
4
3
7
5
6
5
2
5
+19
85
09/09/23 10:00
+37
F
4
6
4
3
4
8
5
5
3
6
7
3
6
4
5
4
3
4
+18
84
09/10/23 09:20
+51
F
3
6
3
3
4
6
4
5
4
6
3
3
7
4
7
5
3
4
+14
80
+51
249
73
Frank Kelz
09/08/23 13:50
+24
F
5
6
6
4
5
5
6
6
4
6
5
4
7
4
6
4
4
3
+24
90
09/09/23 09:40
+38
F
4
3
3
3
4
6
8
5
4
5
4
4
5
4
7
4
4
3
+14
80
09/10/23 09:10
+52
F
3
5
3
3
8
7
4
4
3
6
5
3
5
4
6
4
3
4
+14
80
+52
250
74
Edin Karadza
09/08/23 13:30
+16
F
4
5
6
2
5
6
6
4
4
5
4
3
6
4
6
6
3
3
+16
82
09/09/23 10:10
+28
F
4
3
3
3
6
7
6
4
3
4
5
4
5
3
6
5
3
4
+12
78
09/10/23 09:40
+54
F
5
6
5
2
5
7
5
5
4
7
5
6
7
2
8
4
3
6
+26
92
+54
252
75
Balázs-Peter Metzger
09/08/23 13:20
+20
F
4
7
3
3
5
7
5
6
4
5
4
4
5
4
6
5
3
6
+20
86
09/09/23 09:50
+43
F
5
5
4
3
5
9
6
4
3
6
6
4
6
4
6
4
4
5
+23
89
09/10/23 09:10
+61
F
5
6
4
2
6
7
5
6
4
6
5
3
5
2
6
5
3
4
+18
84
+61
259
76
Maximilian Maetz
09/08/23 14:00
+24
F
4
7
3
3
5
6
5
6
4
6
4
3
6
6
8
7
3
4
+24
90
09/09/23 09:40
+45
F
4
9
4
3
5
6
6
5
3
6
5
4
7
2
7
4
3
4
+21
87
09/10/23 09:10
+70
F
4
7
3
3
5
7
5
4
5
5
5
4
6
2
10
6
3
7
+25
91
+70
268
Pro Master 40+ (26)
+/-
Thr
1
2
3
4
5
6
7
8
9
10
11
12
13
14
15
16
17
18
+/-
Sum
1
Erich Altoray
09/08/23 11:00
+2
F
3
4
3
2
4
5
4
5
3
5
4
3
5
2
5
4
3
4
+2
68
09/09/23 09:30
+1
F
3
3
3
2
4
6
4
4
2
4
4
3
4
2
6
4
3
4
-1
65
09/10/23 09:00
-1
F
3
3
3
3
4
5
4
4
2
4
3
3
5
2
6
4
3
3
-2
64
-1
197
2
Miłosz Boruszewski
09/08/23 08:40
+1
F
3
5
3
2
4
5
4
3
3
5
4
3
4
2
7
4
3
3
+1
67
09/09/23 09:30
+1
F
3
5
2
2
4
5
5
4
2
3
4
3
4
4
5
5
3
3
0
66
09/10/23 09:00
+4
F
4
7
2
2
3
5
4
3
3
4
4
3
4
2
6
6
3
4
+3
69
+4
202
3
Tomislav Gorički
09/08/23 13:10
+3
F
3
4
4
2
4
5
4
4
3
6
4
3
6
4
4
4
2
3
+3
69
09/09/23 09:30
+5
F
3
3
4
2
6
5
4
4
2
5
4
3
4
2
6
4
3
4
+2
68
09/10/23 09:00
+7
F
3
4
3
2
4
5
5
3
3
4
5
3
5
2
6
4
3
4
+2
68
+7
205
4
Johannes Petz
09/08/23 14:20
+4
F
3
4
3
2
4
6
5
4
2
5
4
3
5
2
6
5
3
4
+4
70
09/09/23 09:30
+7
F
4
4
3
2
4
5
5
4
3
5
4
4
4
2
5
4
3
4
+3
69
09/10/23 09:00
+10
F
4
3
3
2
4
5
5
4
3
4
4
4
6
2
6
4
2
4
+3
69
+10
208
5
Péter Török
09/08/23 09:10
+4
F
3
4
3
3
4
6
4
4
3
5
4
4
4
2
6
4
3
4
+4
70
09/09/23 09:20
+10
F
2
4
4
3
5
6
5
5
2
6
4
3
5
2
5
4
2
5
+6
72
09/10/23 08:50
+19
F
3
5
3
2
4
6
5
4
4
6
4
3
4
4
7
4
3
4
+9
75
+19
217
6
Libor Havlíček
09/08/23 09:30
+10
F
5
4
4
4
5
5
4
3
3
4
4
5
4
5
5
5
4
3
+10
76
09/09/23 09:10
+18
F
3
4
5
2
4
5
6
4
2
6
3
3
4
5
6
5
2
5
+8
74
09/10/23 08:50
+22
F
4
3
3
2
4
5
6
4
3
5
3
2
4
4
7
4
3
4
+4
70
+22
220
7
Phillip Gould
09/08/23 09:20
+8
F
3
5
3
2
4
7
6
4
2
6
4
4
4
3
6
5
3
3
+8
74
09/09/23 09:20
+14
F
3
3
3
3
4
6
5
5
3
5
4
3
5
3
6
5
3
3
+6
72
09/10/23 08:50
+23
F
4
6
2
4
5
6
5
4
3
6
3
4
5
2
6
5
2
3
+9
75
+23
221
8
Tomas Krupan
09/08/23 09:00
+10
F
3
4
4
3
4
8
4
4
3
5
5
4
5
4
6
4
3
3
+10
76
09/09/23 09:10
+20
F
3
6
3
3
4
5
4
4
3
6
5
3
6
3
8
4
3
3
+10
76
09/10/23 08:40
+26
F
4
4
4
4
4
5
5
4
3
5
4
3
4
2
7
4
3
3
+6
72
+26
224
9
Marijan Krištofić
09/08/23 08:00
+15
F
3
6
4
3
5
6
4
4
3
7
4
3
8
4
6
3
3
5
+15
81
09/09/23 08:50
+19
F
4
5
3
2
4
6
4
5
2
4
4
3
5
2
6
5
3
3
+4
70
09/10/23 08:40
+29
F
4
4
4
3
5
6
4
4
3
5
5
3
5
3
7
4
3
4
+10
76
+29
227
10
Bartek Hilszczański
09/08/23 11:20
+8
F
3
3
3
2
6
6
4
5
5
6
3
4
5
2
6
4
3
4
+8
74
09/09/23 09:20
+16
F
3
4
4
3
4
6
6
4
3
5
4
4
4
3
6
4
3
4
+8
74
09/10/23 08:50
+30
F
3
5
3
3
6
6
5
4
3
5
4
3
6
5
6
5
3
5
+14
80
+30
228
10
Lukáš Jimmy Kočí
09/08/23 09:30
+9
F
4
3
3
2
4
7
5
5
4
6
4
3
5
2
7
5
3
3
+9
75
09/09/23 09:10
+18
F
3
5
3
3
4
7
4
4
3
6
4
4
5
3
6
5
3
3
+9
75
09/10/23 08:40
+30
F
3
6
3
2
6
6
5
4
4
4
4
3
5
4
8
5
3
3
+12
78
+30
228
12
Dinko Šimenc
09/08/23 11:40
+13
F
4
3
4
3
5
7
5
4
3
5
6
4
5
2
7
4
3
5
+13
79
09/09/23 09:00
+31
F
6
6
4
3
7
5
4
4
5
5
4
4
5
3
6
4
4
5
+18
84
09/10/23 08:10
+36
F
3
3
2
3
4
8
4
4
4
4
4
3
6
2
5
6
2
4
+5
71
+36
234
13
Tomislav Frković
09/08/23 12:30
+18
F
3
5
3
4
5
7
5
5
6
7
4
3
6
4
6
5
2
4
+18
84
09/09/23 08:40
+29
F
3
4
4
3
5
7
4
4
4
6
4
3
6
3
7
4
3
3
+11
77
09/10/23 08:20
+37
F
3
4
3
2
4
6
5
5
5
5
4
4
6
2
6
4
3
3
+8
74
+37
235
13
Juraj Feilhauer
09/08/23 10:40
+15
F
4
5
4
3
4
6
6
4
4
7
3
4
5
4
7
4
3
4
+15
81
09/09/23 09:00
+29
F
3
4
4
3
4
7
7
7
4
5
4
3
6
2
6
4
3
4
+14
80
09/10/23 08:20
+37
F
4
4
4
3
4
7
5
4
3
5
4
3
5
2
6
5
3
3
+8
74
+37
235
13
Andrej Kozic
09/08/23 13:10
+13
F
4
4
3
2
6
8
5
5
3
7
3
4
5
2
5
5
4
4
+13
79
09/09/23 09:00
+22
F
3
4
3
3
4
6
5
4
3
5
5
4
5
4
6
4
3
4
+9
75
09/10/23 08:40
+37
F
5
4
3
3
5
7
6
4
3
5
4
4
6
4
7
5
2
4
+15
81
+37
235
16
Mrgud Pajko
09/08/23 12:40
+7
F
3
4
3
3
4
6
5
5
3
6
4
3
4
2
6
4
4
4
+7
73
09/09/23 09:20
+27
F
4
5
4
3
5
6
6
7
3
8
4
4
6
2
7
6
3
3
+20
86
09/10/23 08:30
+38
F
3
5
3
4
4
8
5
5
3
6
4
4
5
2
6
4
3
3
+11
77
+38
236
17
Milosh Djukanovich
09/08/23 09:00
+17
F
3
4
3
4
5
6
7
4
3
7
5
5
6
2
7
5
3
4
+17
83
09/09/23 08:50
+29
F
3
6
3
3
5
5
4
4
3
5
4
5
5
4
6
5
4
4
+12
78
09/10/23 09:20
+40
F
4
5
4
2
4
6
4
4
3
6
5
4
5
4
6
5
3
3
+11
77
+40
238
17
Martin Mozola
09/08/23 09:20
+13
F
4
8
7
2
4
6
5
4
3
5
4
3
4
2
8
4
3
3
+13
79
09/09/23 09:00
+27
F
4
5
3
3
5
8
4
5
4
5
5
3
5
2
7
6
3
3
+14
80
09/10/23 08:30
+40
F
4
5
3
3
4
6
7
5
3
5
4
3
6
2
7
4
4
4
+13
79
+40
238
19
Botond Bodosi
09/08/23 12:40
+16
F
4
6
3
3
5
7
5
4
3
5
5
4
5
4
7
5
3
4
+16
82
09/09/23 08:50
+25
F
3
4
3
3
5
6
4
4
3
5
4
3
5
2
7
8
3
3
+9
75
09/10/23 08:30
+41
F
4
4
3
3
4
7
5
6
4
7
5
3
6
4
6
5
2
4
+16
82
+41
239
20
Tomislav Ćavar
09/08/23 12:20
+20
F
4
5
3
3
4
8
5
5
3
8
5
5
5
3
7
5
4
4
+20
86
09/09/23 08:40
+31
F
5
5
3
3
4
6
5
4
3
5
4
3
5
4
6
4
4
4
+11
77
09/10/23 08:10
+49
F
4
4
3
3
4
7
6
5
3
5
6
4
5
4
8
6
3
4
+18
84
+49
247
20
Max Makarenko
09/08/23 11:50
+21
F
4
5
5
3
5
6
8
4
3
7
4
5
7
2
8
4
3
4
+21
87
09/09/23 08:30
+49
7
7
8
7
7
8
7
7
+28
51
09/10/23 08:00
+49
-
0
0
+49
138
22
Milan Todorovic
09/08/23 11:50
+24
F
4
6
5
4
5
6
6
5
6
6
6
5
5
4
6
4
3
4
+24
90
09/09/23 08:30
+39
F
3
5
3
3
5
8
4
5
3
5
5
4
6
4
7
5
3
3
+15
81
09/10/23 08:00
+51
F
3
5
3
3
5
6
5
6
3
7
3
3
7
2
6
4
4
3
+12
78
+51
249
23
Veselin Neskovic
09/08/23 11:20
+21
F
4
6
3
3
6
7
6
5
5
5
4
5
6
5
6
4
3
4
+21
87
09/09/23 08:40
+36
F
4
4
4
4
5
6
6
4
5
5
4
4
5
5
6
4
3
3
+15
81
09/10/23 08:10
+54
F
3
6
5
3
4
7
6
5
4
5
4
3
5
4
7
6
3
4
+18
84
+54
252
23
Tomislav Kacavenda
09/08/23 09:10
+9
F
4
4
4
2
5
6
5
5
3
5
4
3
5
3
6
5
3
3
+9
75
09/09/23 09:10
+30
F
3
9
3
3
5
7
6
5
4
5
5
4
5
3
8
6
2
4
+21
87
09/10/23 08:20
+54
F
3
8
4
4
5
7
6
4
3
8
5
4
5
4
9
5
3
3
+24
90
+54
252
25
Andreas Trondl
09/08/23 08:20
+15
F
3
4
5
4
5
6
5
5
3
6
5
4
6
4
5
5
3
3
+15
81
09/09/23 08:50
+37
F
3
5
5
4
5
9
5
4
4
4
5
4
6
4
9
5
3
4
+22
88
09/10/23 08:00
+58
F
5
7
5
4
5
7
5
7
3
7
5
3
6
2
7
4
2
3
+21
87
+58
256
26
Helmut Obernberger
09/08/23 08:40
+26
F
4
6
4
3
6
7
6
5
4
6
4
5
6
5
9
4
3
5
+26
92
09/09/23 08:30
+45
F
3
4
3
4
5
8
4
5
4
8
5
4
8
2
6
4
3
5
+19
85
09/10/23 08:00
+73
F
4
9
4
3
5
8
5
6
4
8
4
4
5
5
7
6
4
3
+28
94
+73
271
Pro Master 50+ (12)
+/-
Thr
1
2
3
4
5
6
7
8
9
10
11
12
13
14
15
16
17
18
+/-
Sum
1
Otfried Derschmidt
09/08/23 11:40
+5
F
3
3
3
3
5
6
5
4
4
6
3
3
4
2
5
5
3
4
+5
71
09/09/23 08:20
+8
F
3
3
4
2
4
5
4
4
3
4
4
3
4
3
8
4
3
4
+3
69
09/10/23 11:10
+11
F
3
5
3
3
3
6
4
3
3
5
4
3
4
4
6
3
3
4
+3
69
+11
209
2
Wolfgang Aichinger
09/08/23 12:10
+8
F
5
3
2
3
4
5
4
4
3
6
4
4
5
6
6
4
3
3
+8
74
09/09/23 08:20
+15
F
3
5
4
3
4
6
4
3
4
8
4
3
4
2
6
4
3
3
+7
73
09/10/23 11:10
+19
F
5
4
3
3
5
5
5
4
2
7
5
3
3
2
4
4
3
3
+4
70
+19
217
3
Jozef Čierny
09/08/23 11:00
+5
F
3
3
4
3
4
7
5
4
3
4
3
4
6
2
5
5
3
3
+5
71
09/09/23 08:20
+18
F
3
7
4
3
4
6
5
4
3
8
4
3
5
4
5
4
3
4
+13
79
09/10/23 11:10
+22
F
3
6
3
2
5
7
4
4
3
4
3
3
4
3
6
4
3
3
+4
70
+22
220
4
Andreas Fadinger
09/08/23 12:10
+4
F
2
3
3
2
4
5
5
5
3
4
4
3
5
4
5
4
3
6
+4
70
09/09/23 08:20
+7
F
3
4
3
2
4
6
4
4
3
4
3
3
4
3
6
4
4
5
+3
69
09/10/23 11:10
+23
F
3
4
3
2
5
7
5
8
4
7
4
3
3
2
7
5
3
7
+16
82
+23
221
5
Peter Pichler
09/08/23 12:20
+10
F
4
3
3
3
5
5
4
6
4
6
4
4
4
4
7
4
2
4
+10
76
09/09/23 08:10
+19
F
4
3
4
3
4
5
6
4
4
5
6
3
4
4
5
5
2
4
+9
75
09/10/23 11:00
+27
F
5
4
3
2
7
5
5
4
4
4
4
3
4
2
7
4
3
4
+8
74
+27
225
6
Gerhard Petz
09/08/23 08:20
+15
F
4
6
7
2
6
5
4
4
3
6
4
4
5
3
7
4
3
4
+15
81
09/09/23 08:10
+26
F
4
4
3
3
5
5
5
4
3
6
5
4
4
4
6
4
4
4
+11
77
09/10/23 11:00
+39
F
3
7
4
3
6
7
4
5
3
4
4
3
6
2
6
4
4
4
+13
79
+39
237
7
Anđelko Zrinski
09/08/23 12:50
+18
F
4
4
3
3
5
9
6
6
4
6
4
3
6
5
6
4
3
3
+18
84
09/09/23 08:00
+32
F
3
5
5
3
6
6
5
4
3
7
4
4
5
2
6
5
3
4
+14
80
09/10/23 11:00
+46
F
3
3
5
4
4
6
5
6
3
7
4
4
4
2
9
5
2
4
+14
80
+46
244
8
Andreas Walter
09/08/23 11:20
+10
F
4
3
3
3
5
6
6
4
3
5
4
3
4
2
7
6
3
5
+10
76
09/09/23 08:10
+27
F
3
5
4
2
6
7
5
5
3
5
4
4
7
4
6
5
4
4
+17
83
09/10/23 11:00
+47
F
4
9
3
3
5
8
6
4
4
5
5
4
5
4
6
5
2
4
+20
86
+47
245
9
János Kazai
09/08/23 09:50
+18
F
4
3
3
2
5
5
6
6
3
6
4
3
5
6
8
6
4
5
+18
84
09/09/23 08:10
+38
F
4
6
5
2
4
7
4
6
3
7
4
4
6
4
7
5
3
5
+20
86
09/10/23 10:50
+54
17
3
4
3
3
5
10
5
5
4
6
4
4
6
4
6
4
3
+16
79
+54
249
9
Mauro Allietta
09/08/23 14:00
+20
F
3
4
4
2
4
9
7
5
4
6
4
5
6
4
6
5
3
5
+20
86
09/09/23 08:00
+40
F
5
4
3
3
6
6
6
6
4
5
5
4
5
4
9
5
3
3
+20
86
09/10/23 10:50
+54
17
3
8
3
3
5
7
7
5
4
5
5
3
4
2
5
5
3
+14
77
+54
249
11
Dejan Dobreta
09/08/23 14:20
+20
F
3
4
4
3
5
7
6
5
3
5
4
4
6
4
10
5
4
4
+20
86
09/09/23 08:00
+38
F
4
6
3
3
5
7
5
4
3
5
5
3
6
2
9
6
3
5
+18
84
09/10/23 10:50
+61
17
5
7
4
3
5
8
6
6
4
6
5
3
7
2
6
6
3
+23
86
+61
256
12
Matej Ernecl
09/08/23 10:50
+21
F
5
6
4
3
4
7
7
5
4
6
5
5
6
2
6
4
3
5
+21
87
09/09/23 08:00
+45
F
4
5
6
3
5
7
6
4
4
6
5
3
7
4
9
5
3
4
+24
90
09/10/23 10:50
+63
17
4
6
4
2
4
7
5
5
4
7
4
3
6
4
9
5
2
+18
81
+63
258
Pro Open Women (23)
+/-
Thr
1
2
3
4
5
6
7
8
9
10
11
12
13
14
15
16
17
18
+/-
Sum
1
Katka Boďová
09/08/23 14:00
+5
F
3
3
3
3
4
5
5
4
3
6
4
3
4
2
9
4
3
3
+5
71
09/09/23 14:20
+9
F
3
5
3
4
4
5
5
4
4
5
4
3
4
2
6
4
2
3
+4
70
09/10/23 13:00
+11
F
3
4
3
2
4
6
4
4
3
5
4
4
5
2
6
4
2
3
+2
68
+11
209
2
Laura Posch
09/08/23 14:10
+8
F
4
4
3
3
4
6
4
5
3
5
4
3
5
2
6
6
3
4
+8
74
09/09/23 14:20
+10
F
3
4
3
3
4
5
4
4
3
5
4
4
4
2
5
6
2
3
+2
68
09/10/23 13:00
+20
F
3
3
4
3
3
6
4
6
3
7
5
4
6
2
7
4
3
3
+10
76
+20
218
3
Sophie Bretschko
09/08/23 12:50
+10
F
3
4
3
2
5
6
5
4
4
6
4
5
5
2
6
5
3
4
+10
76
09/09/23 14:20
+21
F
4
3
3
3
4
6
6
6
3
6
4
4
4
4
6
4
3
4
+11
77
09/10/23 13:00
+31
F
3
4
3
2
6
7
5
3
3
4
4
5
5
2
6
6
3
5
+10
76
+31
229
4
Eliška Bártková
09/08/23 13:50
+15
F
3
4
4
3
5
6
5
5
4
7
4
4
5
4
6
5
3
4
+15
81
09/09/23 14:00
+24
F
4
4
3
3
4
6
5
4
3
5
4
4
5
4
6
5
3
3
+9
75
09/10/23 13:00
+37
F
3
4
4
2
4
6
6
5
4
7
5
4
5
2
6
5
4
3
+13
79
+37
235
5
Jarmila Havířová
09/08/23 08:40
+18
F
5
3
3
3
6
9
4
5
5
8
5
3
5
4
5
4
3
4
+18
84
09/09/23 14:00
+27
F
3
6
4
2
4
6
5
4
4
4
4
4
5
2
7
4
3
4
+9
75
09/10/23 12:50
+38
F
3
5
3
3
4
8
5
5
4
5
6
3
5
2
6
4
3
3
+11
77
+38
236
6
Julia Hauch
09/08/23 10:20
+12
F
3
5
4
3
5
7
5
4
4
5
4
3
7
2
6
4
3
4
+12
78
09/09/23 14:10
+24
F
3
4
4
3
4
6
5
5
3
8
4
4
6
2
6
5
2
4
+12
78
09/10/23 12:50
+42
F
4
7
3
3
4
7
5
6
5
4
5
4
4
4
7
5
3
4
+18
84
+42
240
7
Soňa Kúdelová
09/08/23 09:50
+12
F
4
4
3
2
4
6
6
4
4
6
4
3
5
4
6
5
3
5
+12
78
09/09/23 14:20
+28
F
5
4
3
3
5
7
5
4
3
7
5
3
6
4
7
4
3
4
+16
82
09/10/23 12:40
+43
F
4
5
3
2
5
7
5
4
3
7
5
4
5
4
6
6
3
3
+15
81
+43
241
7
Nikola Moravcová
09/08/23 12:00
+18
F
3
4
4
3
5
8
5
5
4
6
4
4
4
4
8
5
3
5
+18
84
09/09/23 14:00
+28
F
4
3
4
3
4
6
5
5
3
4
5
3
7
2
6
4
3
5
+10
76
09/10/23 12:50
+43
F
3
5
4
3
4
7
5
5
3
6
5
3
7
2
5
5
3
6
+15
81
+43
241
9
Andreja Bernjak
09/08/23 11:10
+14
F
3
4
5
3
4
7
5
5
4
5
4
4
6
2
8
5
3
3
+14
80
09/09/23 14:10
+32
F
6
4
3
3
4
7
7
5
4
6
5
5
5
2
7
4
3
4
+18
84
09/10/23 12:30
+47
F
5
4
4
2
6
6
5
5
4
5
4
4
6
2
7
6
3
3
+15
81
+47
245
10
Ana Goricki
09/08/23 11:30
+19
F
3
6
3
2
6
10
5
5
4
7
4
3
5
4
6
5
4
3
+19
85
09/09/23 14:00
+37
F
4
7
4
2
6
6
5
5
4
5
5
4
5
4
6
4
3
5
+18
84
09/10/23 12:30
+48
F
4
5
3
3
5
6
5
4
4
5
4
4
5
4
6
4
3
3
+11
77
+48
246
11
Beáta Feilhauerová
09/08/23 10:50
+14
F
3
4
3
3
4
7
5
5
4
5
5
4
5
3
8
5
3
4
+14
80
09/09/23 14:10
+31
F
3
5
5
3
6
7
5
5
3
7
4
4
5
2
8
5
3
3
+17
83
09/10/23 12:40
+51
F
3
6
4
2
5
6
5
4
4
5
6
4
6
2
8
7
5
4
+20
86
+51
249
12
Tijana Šotić
09/08/23 12:30
+21
F
4
5
4
3
5
7
6
5
3
6
5
5
5
3
7
7
3
4
+21
87
09/09/23 13:50
+40
F
4
4
4
3
5
7
6
5
3
6
4
5
6
2
9
6
3
3
+19
85
09/10/23 12:30
+62
F
3
4
4
3
5
7
5
5
3
7
6
5
6
4
8
6
3
4
+22
88
+62
260
13
Tina Šimenc
09/08/23 13:30
+23
F
3
8
4
2
4
7
7
7
4
7
5
4
5
4
7
5
3
3
+23
89
09/09/23 13:50
+45
F
3
5
4
2
5
8
5
6
4
8
6
5
6
2
7
5
3
4
+22
88
09/10/23 12:20
+64
F
4
5
3
2
5
7
6
5
3
6
6
4
7
2
6
6
4
4
+19
85
+64
262
14
Helena Jindrová
09/08/23 08:10
+23
F
4
5
4
3
6
8
5
5
4
5
5
4
6
4
7
5
5
4
+23
89
09/09/23 13:40
+47
F
4
5
4
4
5
8
5
5
4
5
7
4
5
4
7
5
3
6
+24
90
09/10/23 12:10
+67
F
4
4
3
3
5
8
5
5
3
7
5
3
5
4
7
5
4
6
+20
86
+67
265
14
Dasha Gerashchenko
09/08/23 13:20
+26
F
6
6
4
3
5
8
7
5
4
7
4
4
6
2
7
5
4
5
+26
92
09/09/23 13:40
+41
F
3
4
4
3
5
6
6
5
4
8
5
3
6
2
6
5
3
3
+15
81
09/10/23 12:20
+67
F
4
6
4
5
5
8
6
5
4
5
5
5
7
2
8
5
3
5
+26
92
+67
265
16
Danica Pajtak
09/08/23 10:30
+21
F
5
5
3
3
5
7
5
5
5
7
5
5
6
3
7
4
3
4
+21
87
09/09/23 13:50
+46
F
6
5
3
3
5
8
5
5
4
5
7
3
5
4
8
7
4
4
+25
91
09/10/23 12:20
+68
F
4
5
3
3
5
7
6
5
4
5
5
4
6
5
7
6
3
5
+22
88
+68
266
16
Ira Molnar Gorički
09/08/23 11:20
+28
F
4
6
4
5
6
7
6
5
3
6
5
4
6
5
7
6
4
5
+28
94
09/09/23 13:30
+47
F
4
4
4
3
5
7
5
5
3
6
5
5
6
2
8
5
4
4
+19
85
09/10/23 12:10
+68
F
4
8
4
4
5
7
5
5
3
5
5
3
6
2
7
5
4
5
+21
87
+68
266
18
Elisabeth Daffert
09/08/23 11:40
+24
F
4
5
3
3
6
10
5
5
4
5
5
4
6
3
9
5
4
4
+24
90
09/09/23 13:40
+52
F
4
7
3
3
6
7
6
6
4
6
6
4
8
4
9
5
3
3
+28
94
09/10/23 12:00
+71
F
3
6
3
3
5
8
6
5
4
5
4
4
4
4
7
6
3
5
+19
85
+71
269
19
Cornelia Hackl
09/08/23 08:00
+21
F
4
4
4
3
5
7
5
6
3
6
5
4
5
4
9
5
4
4
+21
87
09/09/23 13:50
+49
F
5
6
5
3
5
9
8
5
3
7
5
4
6
2
8
5
3
5
+28
94
09/10/23 12:10
+76
F
4
7
3
4
5
7
6
6
5
6
4
5
6
4
7
6
4
4
+27
93
+76
274
20
Veronika Zellner
09/08/23 09:40
+27
F
4
5
6
2
4
8
8
5
3
8
6
4
5
4
8
6
3
4
+27
93
09/09/23 13:30
+55
F
4
6
5
3
6
8
5
6
4
6
5
4
6
4
7
6
5
4
+28
94
09/10/23 12:00
+78
F
3
4
5
3
5
7
6
5
4
8
4
4
7
4
8
5
3
4
+23
89
+78
276
21
Iveta Bečková
09/08/23 08:20
+30
F
4
6
4
4
7
9
6
5
6
5
4
4
6
4
7
6
4
5
+30
96
09/09/23 13:20
+64
F
3
5
5
2
5
8
8
6
4
7
7
5
6
4
10
7
3
5
+34
100
09/10/23 11:50
+89
F
4
5
5
5
5
7
5
5
3
6
5
5
5
4
9
6
3
4
+25
91
+89
287
22
Daniela Weinstock
09/08/23 08:50
+29
F
4
5
5
4
5
8
6
6
4
7
5
5
6
4
8
5
4
4
+29
95
09/09/23 13:30
+62
F
6
6
4
3
5
7
7
7
5
7
6
4
6
5
7
6
3
5
+33
99
09/10/23 12:00
+105
F
5
5
7
6
5
8
8
7
4
7
7
4
8
4
8
7
5
4
+43
109
+105
303
23
Jelena Milovanovic
09/08/23 10:00
+51
F
5
6
5
6
7
8
6
7
4
7
7
6
8
5
10
8
5
7
+51
117
09/09/23 13:20
+100
F
5
8
6
5
6
8
9
8
4
7
8
6
6
4
11
5
4
5
+49
115
09/10/23 11:50
+141
F
6
6
6
4
7
8
7
6
6
7
5
4
7
4
10
7
3
4
+41
107
+141
339
Junior ≤ 18 (10)
+/-
Thr
1
2
3
4
5
6
7
8
9
10
11
12
13
14
15
16
17
18
+/-
Sum
1
Tomáš Mozola
09/08/23 09:50
+7
F
3
4
3
3
4
5
5
4
5
3
4
4
5
4
6
3
3
5
+7
73
09/09/23 13:10
+7
F
3
3
2
4
3
5
5
5
3
3
4
3
5
2
5
5
2
4
0
66
09/10/23 11:40
-2
F
3
3
3
2
4
5
3
3
3
3
3
3
5
2
4
3
2
3
-9
57
-2
196
2
Martin Opršal
09/08/23 12:10
+6
F
3
4
5
2
4
6
4
3
3
5
3
3
5
2
7
5
3
5
+6
72
09/09/23 13:10
+7
F
3
4
3
3
4
5
6
4
2
5
3
3
4
2
7
3
3
3
+1
67
09/10/23 11:40
+6
F
3
5
3
2
4
6
4
4
3
3
4
4
4
2
4
4
3
3
-1
65
+6
204
3
Nikolai Heel
09/08/23 12:00
+6
F
3
3
3
4
4
6
4
4
2
5
4
3
6
4
6
5
3
3
+6
72
09/09/23 13:10
+9
F
3
3
3
3
5
5
5
4
3
6
3
3
4
2
7
4
3
3
+3
69
09/10/23 11:40
+11
F
3
4
3
2
5
5
4
4
3
5
3
3
5
2
7
4
3
3
+2
68
+11
209
4
Samuel Kšiňan
09/08/23 10:20
+7
F
3
4
3
3
4
6
6
3
4
7
4
3
4
2
6
4
3
4
+7
73
09/09/23 13:00
+16
F
3
5
3
4
5
6
5
4
4
5
4
4
4
2
6
4
3
4
+9
75
09/10/23 11:30
+13
F
3
4
3
3
3
5
4
4
3
5
3
2
5
2
4
4
3
3
-3
63
+13
211
5
Šimon Daněk
09/08/23 08:50
+10
F
3
3
3
2
5
5
5
6
4
6
4
4
5
3
6
5
3
4
+10
76
09/09/23 13:00
+15
F
3
5
3
2
4
5
5
4
4
4
4
3
5
2
6
6
2
4
+5
71
09/10/23 11:40
+18
F
4
4
4
2
4
6
5
5
3
4
3
3
4
2
5
4
3
4
+3
69
+18
216
6
Hugo Krička
09/08/23 13:00
+3
F
3
4
3
3
4
5
5
5
4
3
4
4
4
2
6
4
3
3
+3
69
09/09/23 13:10
+15
F
3
5
3
4
6
6
5
4
4
5
6
3
5
2
6
5
2
4
+12
78
09/10/23 11:30
+24
F
3
6
3
3
4
8
5
5
3
4
3
4
4
4
5
5
3
3
+9
75
+24
222
7
Artjom Eichler
09/08/23 12:20
+14
F
3
5
3
4
5
7
5
4
4
6
5
3
6
4
5
5
3
3
+14
80
09/09/23 13:00
+33
F
5
6
5
3
5
6
6
5
4
6
4
5
6
3
6
4
3
3
+19
85
09/10/23 11:30
+40
F
3
6
3
3
4
7
5
4
4
5
4
3
4
2
6
4
3
3
+7
73
+40
238
8
Habakuk Amann
09/08/23 13:50
+25
F
4
5
4
4
5
7
7
5
5
5
6
4
6
2
8
6
3
5
+25
91
09/09/23 12:50
+38
F
4
5
3
2
5
7
5
5
3
6
4
4
5
2
7
5
3
4
+13
79
09/10/23 11:20
+48
F
3
3
3
3
4
6
5
5
3
5
5
4
6
5
5
5
3
3
+10
76
+48
246
9
Noa Ćavar
09/08/23 09:40
+24
F
5
5
3
3
5
6
7
4
4
8
6
4
6
6
4
5
3
6
+24
90
09/09/23 12:50
+46
F
3
5
3
3
4
6
6
6
4
6
7
5
7
5
6
4
3
5
+22
88
09/10/23 11:20
+71
F
3
7
4
3
5
5
8
4
5
5
5
4
7
4
9
5
3
5
+25
91
+71
269
10
Patrik Žemla
09/08/23 08:30
+52
F
5
8
4
5
7
8
9
7
6
8
7
5
6
4
10
8
4
7
+52
118
09/09/23 12:50
+93
F
7
8
6
3
5
9
8
6
5
8
5
5
6
5
7
5
4
5
+41
107
09/10/23 11:20
+121
F
6
5
4
5
6
7
6
5
4
6
5
4
6
4
7
5
4
5
+28
94
+121
319
Junior Girls ≤ 18 (2)
+/-
Thr
1
2
3
4
5
6
7
8
9
10
11
12
13
14
15
16
17
18
+/-
Sum
1
Kristýna Jurčíková
09/08/23 10:10
+15
F
3
4
4
3
4
6
6
6
3
5
4
5
7
2
5
5
4
5
+15
81
09/09/23 14:10
+29
F
4
4
3
3
8
6
4
4
3
7
5
4
5
3
7
4
2
4
+14
80
09/10/23 12:40
+38
F
3
5
4
4
5
5
6
4
3
5
3
4
5
2
5
4
3
5
+9
75
+38
236
2
Nela Ivančíková
09/08/23 08:30
+41
F
4
6
7
3
6
9
7
5
5
6
6
6
7
5
7
7
5
6
+41
107
09/09/23 13:20
+87
F
8
5
7
4
6
10
10
7
4
8
5
5
8
4
7
7
4
3
+46
112
09/10/23 11:50
+135
F
7
6
5
4
7
7
8
8
4
7
7
5
10
5
8
7
5
4
+48
114
+135
333
Sponsors
Hole-by-hole statistics
View:
Grouped chart
|
Detailed chart
|
Table
The CEDGC is back!
Welcome to St. P, a great weekend full of Discgolf is waiting on you.
The 6th edition of the CEDGC will take place in St. Pölten Austria and will provide a great experience on and off the course. The official start of the event is on Thursday September 7th, final round and price ceremony will take place on Sunday September 10th.
The course offers a great challenge and is located in the middle of the city next to the Traisen-River.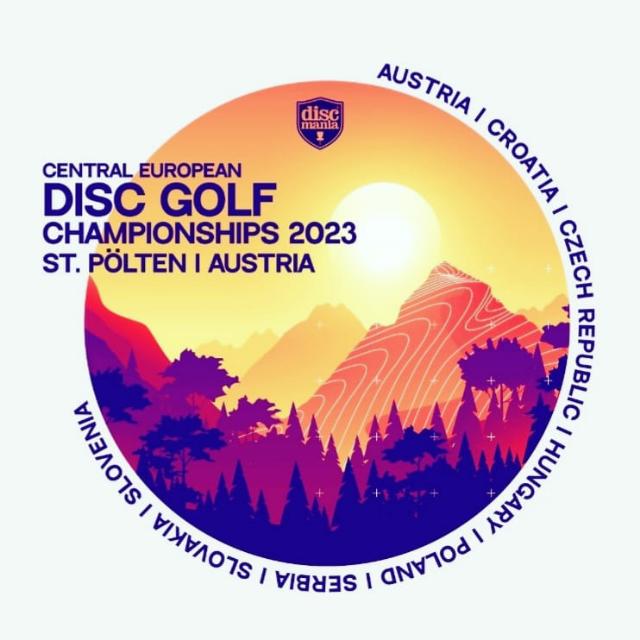 Basic Info:
The tournament will be played Friday to Sunday one round a day with a golf start
We will host up to 160 Players
Registration fee is 60€ + 5€ optional Ace Pot
There will be a nice players pack for every participate
We will NOT provide Cash prices, but lots of non-cash prizes and of course awesome trophies for the best players in each division.
The tournament will be played in six divisions: MPO, FPO, MJ18, FJ18, MP40, MP50
Registration:
There is a maximum capacity of 160 players. Division sizes are as followed:
MJ18 (up to 20 players) - each country receives 1 national spot, plus additional 12 individual spots
FJ18 (up to 8 players) - each country receives 1 national spot
MPO (up to 60 players) - each country receives 3 national spots + additional 36 individual spots
FPO (up to 24 players) - each country receives 2 national spots + additional 8 individual spots
MP40 (up to 36 players) - each country receives 2 national spots + additional 20 individual spots
MP50 (up to 12 players) - each country receives 1 national spot + additional 4 individual spots
The actual registration process is quite complicated and works on a wildcard based system as followed:
All interested players need to pre-register during the registration period March 18-April 15.
Each player eligible to participate in the competition must be either a legal citizen or permanent resident of one of the participating country or must temporary live within one of the participating countries for at least 18 months preceding the date of the tournament with the exception of players awarded the local organizer wildcards.
Pre-registration on the event website does not necessary mean a guranteed spot for the competition, all participating players need to earn either an individual spot, a national spot or a wildcard.
On April 16 the pre-registration field will be frozen. In each division the pre-registered players who have at least 8 rated rounds included in their ratings calculation with the highest current PDGA rating (after April 2023 ratings update) will earn individual spots - 12 players in MJ18, 36 players in MPO, 8 players in FPO, 20 players in MP40, and 4 players in MP50.
All other pre-registered players will be sorted within each division according to their current PDGA rating on April 16 and this ranking will form a waiting list for individual spots in the event of cancellations of players. These lists will be published on the event webpage.
Players without the PDGA rating will not be placed on the waiting lists, players with the same PDGA rating will be sorted according to their last previous different rating (player with a higher one will be placed higher). The same tie-breaker will be used in case of a tie for the last available individual spot.
Only players from 8 CEDGC countries can earn individual spots and placed on the waiting list for individual spots, all other entries will be ignored.
The national disc golf governing bodies in 8 participating countries will also publish by April 15 their own national rankings for national spots with waiting lists, specifically for each competition division, a country may also opt to left some of the positions unnamed at this point, with adding the names later, they just need to claim their spots (and pay the associated fees).
The highest placed players in each country who are pre-registered but did not earn an individual spot (1 in MJ18, 1 in FJ18, 3 in MPO, 2 in FPO, 2 in MP40 and 1 in MP50) will earn national spots.
Countries can give up some of their national spots, in that case these spots will be distributed to the individual spots to the highest placed players in the corresponding division on the individual spots waiting list.
In case of a cancellation of an individual spot, a player placed highest on the waiting list (sorted according to the April 16 PDGA ratings) in the same division will earn the spot. It can theoretically be a player with assigned national spot, in that case, the spot of the player is changed from national to individual and the next player on the country ranking in the same division from the same country will be given the emptied national spot.
National spots awarded after April 16 can be awarded to players who are not pre-registred, such players have always one week to pre-register after the spot is assigned to them.
Countries can change the order on their country national spot waiting lists as they like, they just need to inform the event organizer about any changes. This allows countries to award the national spots based on the performance of players later during the season (i.e. to first claim unnamed spots but later subnit the ranking of players with names).
The limited amount of tournament organizer wildcards (12 spots) can be awarded at any time to players who are not pre-registered. The selction of these players is solely on the local event organizer.
All players with any type of spot will be informed about the spot assignment with 24 hours through an email address used in pre-registration, or an email address provided by the country with their national ranking lists.
So all in all what's important?
Just register before April 15th! After that deadline all the spots will be assigned and you will be informed if you grabbed a spot or not. The good news are: We have a total capacity of 160 players, so there will be space for almost everyone :)
Schedulle:
Thursday:
Course is ready for practice all day long
14:00-17:00 Mandatory Check-In at the Tournament Center (also you get your shirt and pay for the Ace Pot if you havent before)
19:30 official opening ceremony at the Saal der Begegnung (Place: Gewerkschaftspl. 2, 3100 St. Pölten), you will get your players package here as well :)
Friday:
8:00 First group tees off, golf start with a group starting every 10 minutes
18:30 Ace Contest at the Traisen Hole, Music and Fun
Saturday:
8:00 First group tees off, golf start with a group starting every 10 minutes
19:30 Putting Contest, music and fun at the tournament base
Sunday:
8:00 First group tees off, golf start with a group starting every 10 minutes
17:00 Price Ceremony and Goodbye
Course:
The course will be an extension of the permanent course in St. P. We will provide a good mix of all kind of holes and of course the famous Traisen-Hole will be set up for some nice ace runs ;)
All in all you can expect a great challenge!
Course map is available at "Manual"
Payments:
For MPO, FPO, MP40 and MP50 the tournament fee is 60€. Only for MJ18 and FJ18 the fee is 40€. This includes the organization of the event, a sweet players pack for every participant, prices for all divisions, side events.
The optional Ace Pot is 5€ and needs to be paid together with the registration fee.
The tournament fees and any other associated fees are to be paid to the event organizer within 2 weeks after the spots are assigned to players or claimed by the country. Thus, for the most of the spots the deadline will be April 30.
Players can pay the fees individually, or they can in groups. It is possible to pay for a large group of players from one country together in one payment if a national disc golf governing body requests so. In that case an individual request to the organizer is necessary.
The local organizer will issue invoices for fee payments if requested by the payer.
All payments needs to be transferred on the STPDISCGOLF bank account:
STPDISCGOLF
IBAN: AT56 3258 5000 0006 7736
BIC: RLNWATWWOBG
Raiffeisenbank Region St.Pölten
Refund: We can only provide refund until one week prior to the tournament.
Side Events:
Who will be the next Central European Champion? Yes, thats an important question! But there is many more options to become a winner of St. P than just the main event.
Following side events will be played during CEDGC:
CTP-Challenge (one each round)
Long Putt-Challenge (on the final hole) - Presented by Physio Point Karlstetten
Ace Pot (We expect at least 500€)
Long Drive (who has the strongest arm?)
Birdie run (let`s see who gets things rolling)
Putting Contest - Presented by Sonnenschutz Georg Grubner
Ace Contest - Presented by Wayao Apparel
Accomodation:
The Hotel Alfred is our main partner for the tournament, we have some rooms blocked only for disc golfers there and they also offer some special prices for CEDGC-participants.
Single room without breakfast: 63€, with breakfast: 74,5€
Double room without breakfast: 76€, with breakfast: 99€
Send a message directly to the hotel at office@dasalfred.at or call them +432742/28990 and use Code: CEDGC2023 to get the discount on the room. Only then you will get the special rates.
One more option we can suggest is the Pension Schlafgut. You can book directly on their website: https://www.schlafgut.at/pension-schlafgut.html
Beside of that St. Pölten offers many other different options for a nice stay :)
Food:
Like many times before @flomayerontour will provide us with awesome food throughout the weekend! On each day there will be a vegetarian and a non-vegetarian option, each meal will cost about 10€. Pls tell us in the registration if you would be interested in buying food on side, the exact menu will be published in June.
Prizes:
The best 3 players in each division will get trophies.
At least the best 15% in each division will get non-cash prices.
Also all winners of side events will get non-cash prices.
Once again we are super excited to see all of you in St. P!
CEDGC awaits you